Our Mission
The Mission of American Medical Sciences Center is to provide innovative, quality programs that are sound in concept, implemented by a highly skilled faculty and designed to serve the needs of students to achieve their educational, professional and personal goals. The final goal of the AMSC College is to empower its students to succeed in obtaining an entry to mid-level position and to advance within the healthcare Industry by maintaining strong long-term employment.

LICENSED TO OPERATE BY
"BPPE"
The Bureau for Private Postsecondary Education
1625 North Market Blvd., Ste. S-202, Sacramento, CA 95834-1924
(916) 574-7720
www.bppe.ca.gov

INSTITUTIONALLY ACCREDITED
BY "ABHES"
The Accrediting Bureau of Health Education Schools
7777 Leesburg Pike Suite #314N, Falls Church, Virginia 22043
(703) 917-9503
www.abhes.org

CERTIFIED
BY "USDE"
The U.S. Department of Education
As an eligible participant in The federal student financial aid (SFA) programs
Federal Student Aid Information Center, P.O. Box 84, Washington, DC 20044-0084
(888) 224-7268
ACCREDITED TO OPERATE
BY "BVNPT"
The Board for Vocational Nurses and Psychiatric Technicians
2535 Capitol Oaks Dr., Suite #205, Sacramento, CA 95833-7859
(916) 263-7800
Statement of Ownership
American Medical Sciences Center, a California corporation, was acquired in March 1996. Institutional approval from the Bureau for Private Postsecondary and Vocational Education pursuant to California educational Code 94915 was granted in May 1997 and complies with state standards. Mr. Vardan Karagezian owns the American Medical Sciences Center. The owner possesses a Master's Degree in Electronic Technology and Medical Cybernetics. Mr. Karagezian has more than 20 years of experience in the field of Sonography and ultrasound.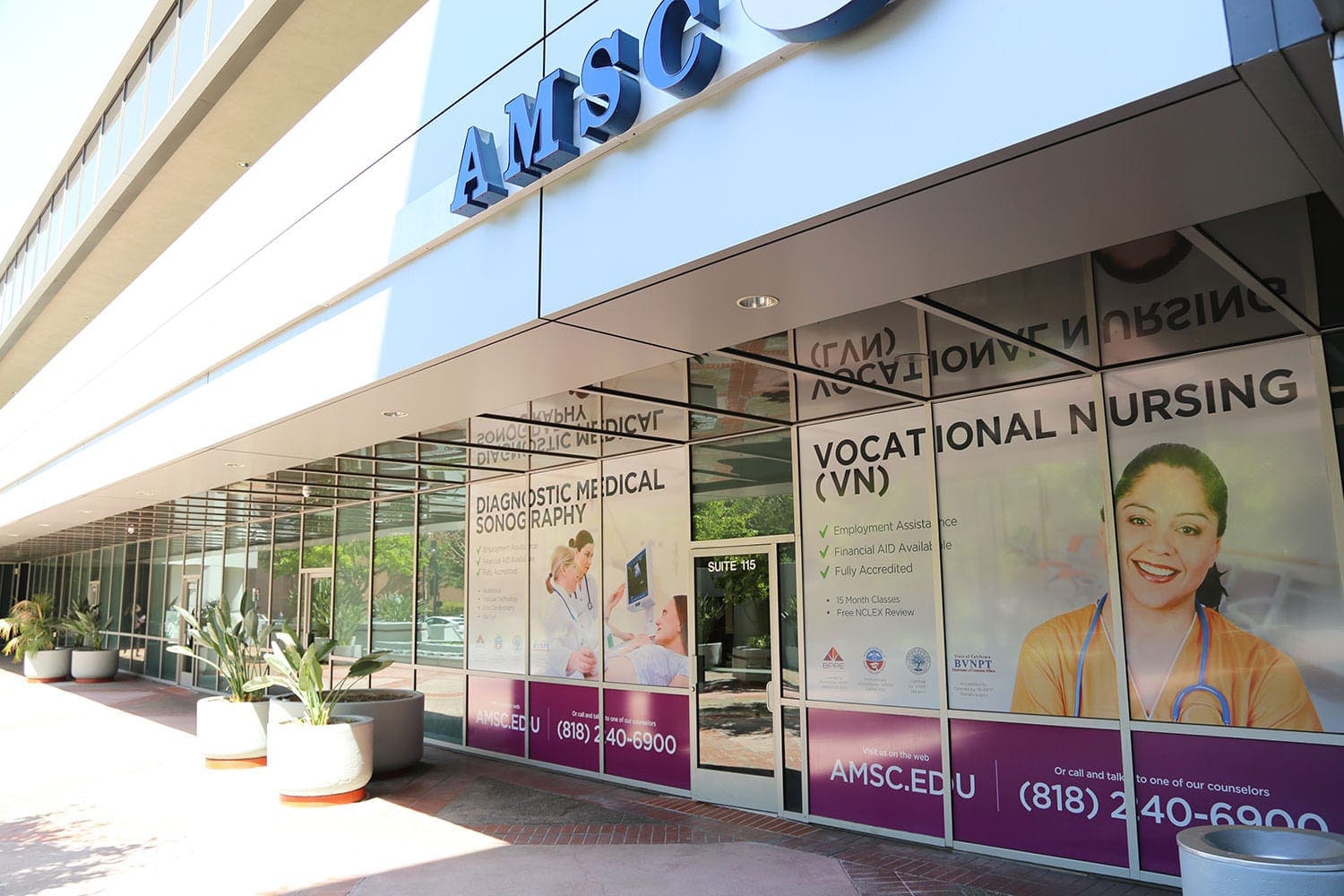 M1 Visa Students
The AMSC is approved by the Student and Exchange Visitor Program(SEVP) authorized under Department of Homeland Security(DHS) and Department of State as a institution of higher learning for non-immigrant M-1 visa students. AMSC is not Internationally accredited by Accrediting Bureau of Health Education Schools (ABHES). However, M-1 Visa students are welcome to apply for our programs from the US and abroad. At present, the institution offers a Diagnostic Medical Sonography 1980 hours, 78 weeks, 78.5 Semester Credit Program. For more information about applying for M-1 visa and visa procedures download our catalog.
Visa Procedures
AMSC is approved by the Student and Exchange Visitor Program(SEVP) authorized under Department of Homeland Security(DHS) and Department of State as a institution of higher learning for non-immigrant M-1 visa students. Students attending another institution in the United States on an M-1 visa may enroll in AMSC by completing the admissions process filing a Form I-539. It is also possible for prospective students in the United States on some other type of visa to apply to the Immigration and Naturalization Service for change to an M-1 visa. Most classes of nonimmigrants can begin studying while their application is pending. The exceptions are currently in B-1, B-2, or F-2 status. These nonimmigrants cannot begin a program of study prior to approval of their change of status. Before international students may be considered for admission, they must:
Complete the application form; enclose a $75.00 processing fee.
Provide evidence of completion of high school or equivalent diploma.
Take the admissions entrance SLE test with a score of least 29
Applicants not currently in the U.S. may demonstrate proficiency reading, writing, and speaking English in several ways and should include the documentation with their application.
a TOEFL score of at least 450 or
High school or college transcripts documenting English language skills or
Completion of an appropriate English as a Second Language (ESL) course or
Other equivalent verification of communication skills.
I-20 Certification
After the application process has been completed and all relevant materials have been submitted, the file is reviewed by the admissions committee. If the student fully meets the criteria for admission and has adequate funds to meet the expenses of the program of study, the school obtains specific biographical and financial information about the student which will be necessary to issue a Form I-20, "Certificate of Eligibility for Nonimmigrant Student." Applicants will be notified in a timely manner and will be mailed a Certificate of Eligibility (I-20) along with further information regarding registration and helpful visa information.
Applying for a Student M-1 Visa
Prospective nonimmigrant students who are not in the U.S. must apply to the local U.S. consulate for an M-1 visa. This requires a visa interview. The student must bring several items to the interview. The consular officer will need to verify the student's I-20 record electronically in order to process the student visa application. The potential student must pay a SEVIS I-901 fee to the Department of Homeland Security prior to applying for a visa and may prove payment of the fee through the internet at http://www.fmjfee.com with a credit card and printed receipt as an evidence that the fee has been paid. For this case you need the information from your I-20 form to fill out the Form I-901. All applicants should be prepared to provide:
Form I-20, signed by the Designated School Official (DSO);
Receipt as a evidence that the fee for Form I-901 has been paid;
Diploma of completion of high school or the equivalent;
Scores from standardized SLE test and documentation of English language skills;
Program Outline with starting and ending date
Financial evidence that shows the student or parents who are sponsoring have sufficient funds;
Completed Form(s) for the Application for Nonimmigrant Visa;
Valid Passport for travel and admission to the United States with a validity date at least six months beyond the applicant's intended period of stay in the United States;